Increasing the visibility of roadway markings is an important task for engineers. The most popular approach for making roadway striping more visible has been to add glass beads to the surface of the roadway paint in order to cause some of the light from headlights to retro-reflect back to the car. However, when paint with retroreflective beads is submerged with water the index of refraction of water prevents the light from retro-reflecting and the roadway markings become nearly impossible to observe. The easiest workaround for this problem is to add retroreflective tabs to roads, but in our snowy climate the snowplows would rip tabs off the road leaving Utah with no great solutions.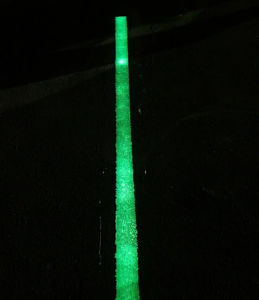 The Taylor Sparks Research Group has set out to develop a potential alternative solution based on "glow in the dark" luminescent phosphors. Glow in the dark roadways have been piloted before in the Netherlands and failed spectacularly after only a few weeks due to rainwater causing the rare-earth elements to leach out of the ceramic phosphor in the paint. The innovation was led by group member Jason Nance (M.S., '19) who performed his Master's degree in Materials Science and Engineering (MSE) while working as the state chemist for the Utah Department of Transportation (UDOT).
Nance and Dr. Taylor Sparks developed a custom polymer coating for the ceramic phosphors that prevents the rare-earth ion from leaching out when submerged in water for prolonged periods. A provisional patent has been filed and a full patent application is under review. Sparks and Nance hope to commercialize this paint through their startup, JCS Labs, and will be conducting feasibility tests on public roads with UDOT this summer.
Dr. Sparks and Nance were recently interviewed by Fox13 News in Salt Lake City about their research and development, watch the interview here.